The Best Free Merch by Amazon Plugin You Have Never Heard Of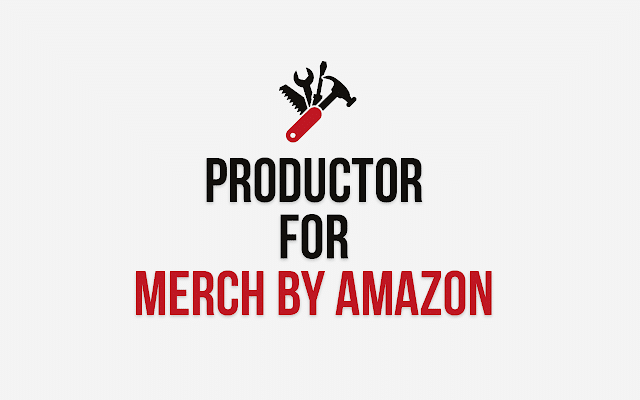 Over the years, as new plugins are released for Merch by Amazon by independent creators, we have tested pretty much all of them.
When it comes to Merch, TESTING is your biggest edge over every other seller on the platform. Anything that can give you any extra data about your business is great. Some of the plugins we have tested have been downright terrible, and some have been really good.
A few months back, we stumbled across a plugin that was pretty much unheard of called: Productor.
This plugin… is GREAT!
Oh, and its free.
The amount of tools and data this creator has packed into a single plugin is pretty much unheard of, especially being free.
So today, I want to run you through the features and why we like it so much and how it can help give your business that extra edge.
The Productor plugin is a toolkit for your Merch by Amazon dashboard, much like Merch Informer is a toolkit for your MBA research. It completely transforms your dashboard and gives you some data and tools that I did not have previously.
What I want to do is go over some of my favorite features and how they work. At the end, ill put all the other features so that you guys can take a look yourself.
Note: Before I get started, please note that all the data is stored locally in your browser and there is no external database or connections so all your data remains yours and safe.
Grab the plugin here and follow along: https://chrome.google.com/webstore/detail/productor-for-merch-by-am/almiakmbepejhcjnfhhjkcfabeepefno
Alright, lets jump into it!
Designs Running Out
Even though shirts now have a LOT longer to stay up on Merch before they come down for no sales, this is still an issue when you have a large design catalog. If you do not have your bullets and title saved somewhere, relisting can take FOREVER.
When you first log in to Merch, the Productor extension goes to work: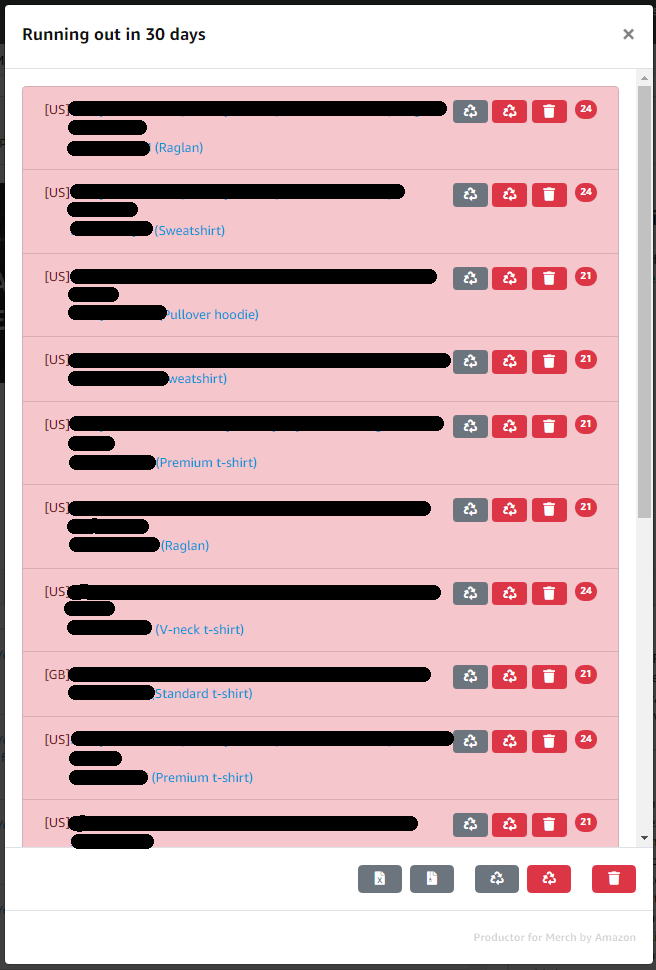 It will immediately tell you what shirts are about to run out and be taken down for no sales. On the right hand side, you will see how many days they have left, a button to actually delete the shirt, but then there are the two buttons that look like a "recycle" icon.
This is one of my favorite features.
Clicking on the grey icon will relist the product while clicking on the red one will relist the product AND delete the older listing. This helps keep your dashboard clean of designs and no duplicates and also allows you to get your designs back up before they run out.
Relisting the product also PRE FILLS the pricing, brand, title, bullets and description that you already have on the shirt. No need to copy and paste thousands of times to get everything back up!
You can set this feature up to show anything expiring in 1, 10, 30, 60 and even 180 days from the settings menu: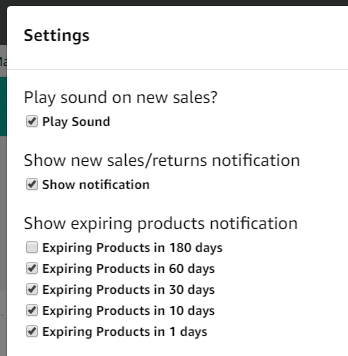 Average Days Until First Sale
If you head over to the Productor Manage Tab, you will see all the data you would hope to see (today sales, all time sales in all all locales, previous month, current month, previous 7 days and the last 7 days), but it also gives you something I have not seen anywhere else.
It will tell you how many products have reviews, how many are marked as Amazon's choice AND the average days until your first sale (on your designs).
This last one is huge. It lets you know how your catalog is doing as a whole, and not just indivually. I use this number to judge how new products are doing. The higher the number goes, the more I need to take a look at the my designs to make sure that they are actually a good market fit.
The lower this number the better! You want your products to be selling as quickly as possible. Do remember it can take a few weeks for the products to be properly indexed though.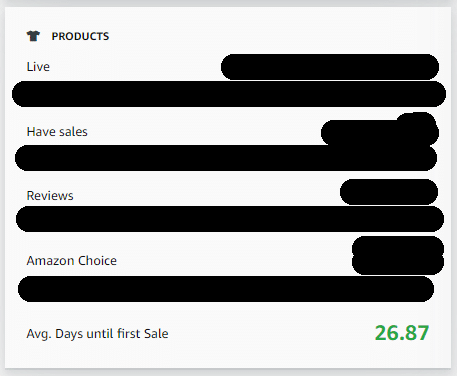 Sort and Export
Productor offers 2 insane export options that let you download an ENTIRE version of your Merch by Amazon account in a single click.
You can either do it at the top menu, or from the bottom of the productor manager tab:

You can sort everything!
Select how many products you want to display from the left hand corner (including your entire account) and then sort everything by:
Status
Type
ASIN
Brand
Title
Bullets
Price
Reviews
Review Rating
Rank (BSR)
Category
Marketplace
Days Until Deletion
Sold (all time- canceled)
Sold Revenue
Sold Royalty
Sold Returned
Sold Cancelled
First sale
Last Sale
Created
Submitted
Published
Days until first sale
Single/Multi upload
Amazon Choice
Merchandise ID
Design ID
As you can see, the list which you can filter products is simply insane (and you probably wont actually use them all).
However, once you sorted the list, all you have to do is click on the export to excel button and BAM! Just like that, you have a full excel file of your entire Merch by Amazon account with ALL that information.
But wait…. I havn't even talked about the best part yet.
You know those annoying times you are trying to find a design that you uploaded to Merch but cant find it on your computer because your files are a mess and spread out?
Productor lets you download your entire DESIGN catalog as well. This means you can download every single PNG you ever uploaded to Merch by Amazon with the click of a button….all in one place!

This is something I have not seen anywhere else and is a lifesaver.
There is no need for any 3rd party database or airtable. This free plugin downloads everything directly to your computer in an excel sheet and in a zipped file so you can keep everything organized. Keep in mind though that this data is downloaded as a snapshot in the time, it will not update after you downloaded it.
Wrapping It Up
Those are probably my 3 favorite features of this plugin but it does SO much that if I went over everything, this article would be 10,000 words. Being able to see all this data as well as the revenue/royalty breakdown per shirt is simply priceless.
Here is everything else it does broken down in bullets:
★ Data is stored locally in your browser, no external database or service needed!
★ Fast & easy Excel (.xslx) bulk import incl. price and colors
★ Bigger and better input fields
★ Auto check for banned keywords (Content Policy) – security for your listings!
★ Display Amazon Best Sellers Rank (BSR) on "Manage Products" and all listings of all Amazon platforms (Germany, USA, UK,…)
★ Display estimated sales for your products and the products of your competitors!
★ Extended "Manage Products" table to display "Brand", "BSR", "Reviews"-counter and faster access to "Edit" button
★ Display "ASIN" to create campaigns on Amazon Marketing Services, Amazon Advertising (AMS, AA) faster
★ Display estimated Sales and many more under "Manage Products" and Amazon search results
★ Smart and easy detection of copyright infringements! Distinct better between your MBA products or stolen ones on Amazon.
★ Right click on any listing to download high-resolution image
★ Copy and Paste incl. colors! Copy contents of one listing (own or others) and paste it into another.
★ Translate all form fields with a single click!
★ Focus Keyword extractor and analysis for every Amazon product
★ Never loose track of expiring Merch by Amazon products again. Daily popup for expiring listings for 60, 30 and 10 days including details and export function!
★ Improved Statistics and Analytics
★ Instant Notifications on new sales on MBA
★ Download high resolution images of any Merch By Amazon products, just with a single right click on the details pages!
★ Integration of edit and copy to clipboard functions directly into search results at amazon
★ Full export of all your products including designs!
★ Backup your Merch by Amazon
★ Trademark check of your listing included
★ Improved sorting and filtering of your products
★ One-click re-list of expiring products! (Re-publish your expiring product on merch by amazon with a single click.)
★ One-click cross-listing of existing products from US to UK or DE
★ Sort the table for any kind of information
★ Apply default colors, fit types, products and more for "Multiple products"
★ Sort search results on amazon by BSR (Best Sellers Rank) and Rocket Sellers
★ Auto convert image sizes like from T-Shirt to Hoodie and Popsocket
★ BSR history for all your products
★ Create Amazon Advertising Auto-Campaign Bulk Import export file to import your filtered products to Amazon Advertising.
and many more…
Grab the plugin and try it out. It's FREE!