100k Business In One Year – Merch by Amazon Case Study Update 3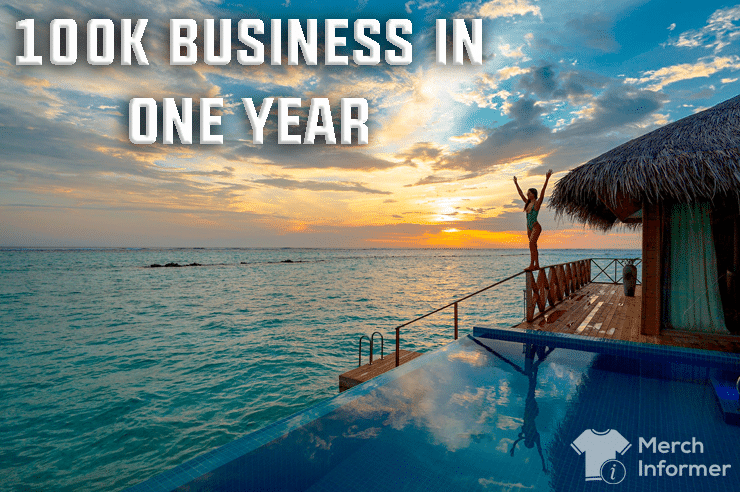 Welcome to the third installment of the case study and Happy New Year! December went by incredibly fast to wrap up the year and there was lots of traveling, people out of the office, and spending time with family but among all of that, we still managed to make some progress with the case study.
December also marked the end of Q4 (and really good sales!), so let me set the stage by saying: EXPECT lower sales moving forward for the next few months.
This is completely normal and to be expected as the holiday shopping season is over. It is also the reason why I tell everyone that the majority of their designs should be evergreen once they have enough slots (I would say tier 100-500). This will give your account a good steady stream of income even in the slower months.
To see the previous month's case study, you can find it below:
100k Business In One Year – Merch by Amazon Case Study Update 2
Now, before we get into everything, let's go over some of the changes that Merch by Amazon made.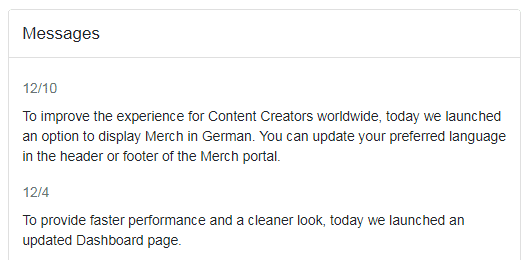 First, they updated the dashboard!
It only took….3 years, but hey, I will take it! I think it is an improvement over the old design, but also leaves a lot to be desired. I know the Merch team has been working on this, and soon you should see changes across most of the Merch tabs and not just the dashboard. That being said, the new design is clean, easy to read, and I think a good foundation of what is to come.
The dashboard change sent most of the Merch community that uses plugins into a full on meltdown when they broke. Keep in mind that whenever Merch pushes changes to their UX, most developers are not aware of the changes beforehand and have to work to update their code so that everything works again. This takes TIME, and the next time it happens, I would urge everyone to have a little patience.
Now, with that being said, I think people getting upset that their dashboard plugins breaking really highlights a bigger issue.
People are focused on the WRONG things!
Does your dashboard plugin that makes Merch look a certain way help you make more money?
Does your dashboard plugin help you create well researched unique designs?
Does that plugin that you have come to love help you optimize your listings?
Nope, it does NONE of those things. While everyone was focused on free plugins breaking for 24 hours or less, other people were busy uploading and selling more designs.
If everyone simply focused on the variables that they could control that have a direct impact on their own business, I think the community would be a lot better off. This is not to say I don't like a lot of these plugins, but at the end of the day, I think everyone should be focused on their own business.
12/10

To improve the experience for Content Creators worldwide, today we launched an option to display Merch in German. You can update your preferred language in the header or footer of the Merch portal
Merch also pushed an update to the dashboard to change everything into German. While this is not beneficial for me at all, this was a welcomed update for all my native German speaking friends and I think a great start to cater towards a larger audience. With new marketplaces on the way, I am curious if this will be implemented into other languages as well.
Uploaded To ALL Products
Since we did the original account audit in the first case study here, we have been uploading designs to every product available.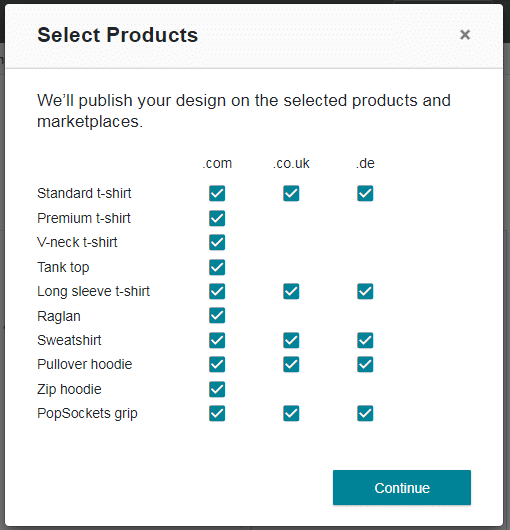 As you can see a single design equals 20 products. With more products on the way as well as more marketplaces, I think we will begin to see some MASSIVE tiers (well over 100k) in 2020. Time should tell!
In December for the account in the case study, there were only a few days of uploading. During those days, we continued to add all the designs we ALREADY had. Most of the products were up in one or two forms, but so many of the different products were missing. I noticed that during December, a lot of the new designs that were put up started selling on Hoodies. This is to be expected when you sit down and think about it because of the colder months, but it was nice to see the higher royalties start to stream in.
This just goes to show you that you should always be thinking like the customer when listing your designs.
The customer may love the t-shirt, but it's freezing cold outside and they want it in a hoodie or a long sleeve. If you do not have those forms of the design up, you just lost out on a potential sale. This is ALSO why I recommend putting the forms of your design (if you already have them up in a standard shirt), under the same brand. It makes it a lot easier for the customer to find the other products and purchase them. It would be awesome if we had some version of tracking from Amazon on this to see how many people click the brand, but for now, putting them under the same brand is the strategy we are going with and it seems to be working well.
So, after the uploading days, here is what the account looks like:

As you can see, the account got tiered up to 4k!
This is what it looked like previously in November:

Not only did the account get tiered up to 4,000 but there was a total of 1941 products published to the account in December.
This represents about 3-4 days of uploading, thanks to the Merch Informer Lister that we mentioned in the last month's case study.
I should also point out that there were NO new designs uploaded in December and this represents the entire backlog of designs fully uploaded onto the account. This will be the foundation moving forward as it is finally caught up, and ready for new designs.
Also keep in mind that uploading to all products (while a great idea and what we have done) will not have a greater impact on NEW unique designs to your catalog. If you are in a lower tier, I would always upload more unique designs before uploading to all products if you have run out of space.
Merch by Amazon Response Issues
One of the general frustrations that I see in the Merch community is the response by the Amazon team every time that you email them. They have a VERY small team for the amount of content creators they are supporting so I understand when they are slow to respond or have issues. However, they REALLY need to up their game here and I think that is a fair criticism.
In last month's case study, there was a design that got rejected in the UK market for mental illness on the account. Every time a rejection or a take down happens, I always recommend that you reach out to Amazon to get more information (their email templates are very vague) so that you can either understand what went wrong and fix it, have the Merch team put your products back up, or learn from your mistake to correct it moving forward (we all make mistakes).
There was also another design that racked up a bunch of rejections because of trademark even though there was no trademark for that term in any of the products that we sell on Merch.
That email was sent over a month ago now and just got a response.
The Merch Team took a look and replied with the trademark issues they thought caused the issue.
The only problem….
The trademark is for FOOTWEAR.
The last time I checked, we do not sell print on demand shoes. Another email was sent off and I expect to be waiting a good while before I hear back.
That brings us to this month's case study.
There was a design on this account that had been up for well over a year, no trademarked terms and had 2 reviews. Uploading to all of the other products a bunch of rejections came back. While I am not worried about the account getting banned since we are not bad actors, this is frustrating.
The weird part is, the designs that were up previously that got rejected when they were put up again….are still live on Amazon and searchable.
I have no idea what is going on there:

The lesson here is that if you are having these same issues, you are not alone but should not worry about your account. While frustrating, I still hope that in the future, Amazon does better.
Testing New Designers
In order for this account to grow over the next 12 months, we are going to have to come to the table with GREAT designs, but also up the volume of these designs.
You can earn a lot of royalties from very few designs, but if you have a LOT of designs that also happen to be great, you still start to see your account grow and grow. A good example of this is an interview we did last year here:
Exclusive Interview With 6 Figure A Year Merch Brand
So, in December we kept interviewing a few designs and getting a few created. Most of these were found on Upwork and another was found through a service.
Now, I know a LOT of people are doing their own designs, and we have created a few of those as well! Merch Informer recently launched a new service that is completely free for PRO level subscribers where we will take custom suggestions and include 100 vectors each and every month.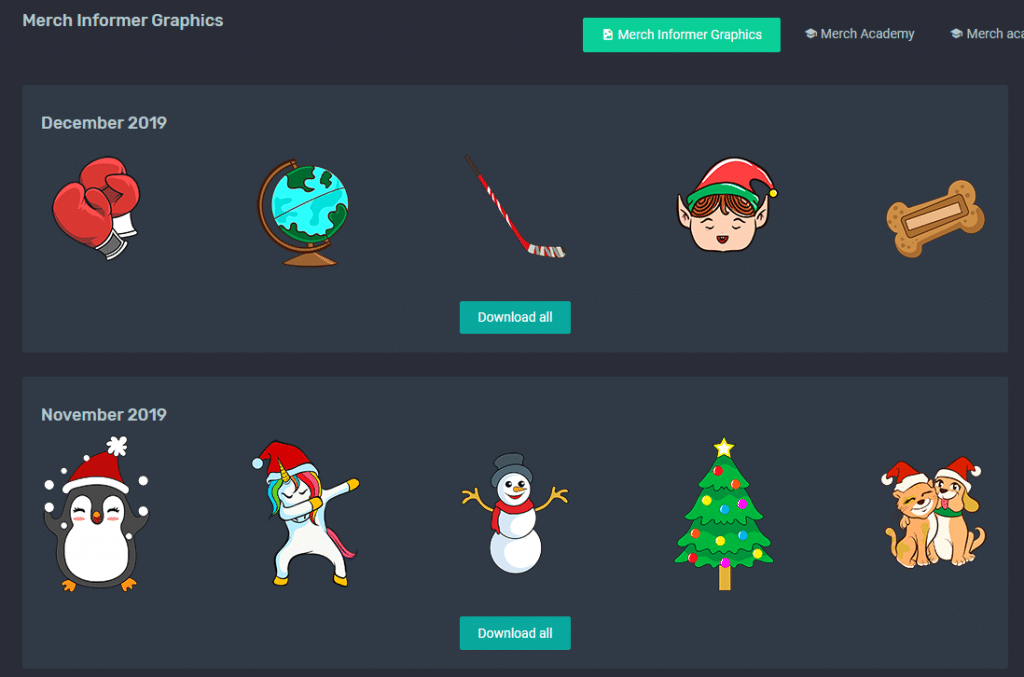 All of these come with a commercial license so we used some of those to create some unique designs in certain niches. None of these have been uploaded yet.
The outsourced designs have also not been uploaded yet as we are still testing different designs and trying to get a good hold on what our team needs to look like moving forward.
There are a lot of people still doing strictly white text based designs. While these still work, quality is going to be a big thing going forward as there are just THAT many more designers jumping on board the Merch platform.
To demonstrate the kind of quality I am talking about, here is one of the designs we picked up from a design service (I will probably review this service on the Merch Informer blog soon):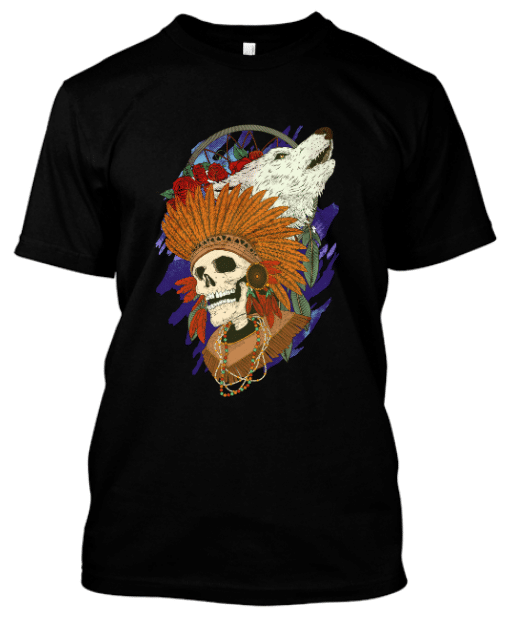 AMS/Promotion – Let's Talk
To date, there has been ZERO ad spend run on this account as well as ZERO promotion of any kind.
No Pinterest, no AMS ads, no Facebook posts… nothing!
This should change in the coming months once we really start going. The first thing I want to set up is some low spend AMS ads on best sellers WITHOUT reviews in order to try and get more volume. More volume on those products should produce a review or two. Once that happens, we can monitor the products to see if we should turn the ads off, or keep them on and what effect it is having on sales.
Second, I want to try and see if we can get some organic Pinterest traffic moving. This is one of the easiest forms of FREE advertising that you can do which we have written about many times in the past:
Leverage Pinterest Marketing To Sell Your Merch by Amazon T-Shirts
I know a LOT of you still do not have access to AMS ads. Amazon seems to be slowly rolling out invitations again (so keep an eye on your email). If you are looking to get started and do not yet have an AMS account, you will have to be patient. However, you used to be able to run ads on your AMS account for ANY shirt (it did not have to be yours or in your account). I have not double checked to see if that is still possible, but if it is, you may want to find someone who has an account already and strike up a deal with them. This should get you access to ads, and also a potential business partner for the future.
Sales – Foundation Set
Now that all of the previous designs for the account have been uploaded to all forms, the foundation of the account is finally set!
Here is how the account did in December:

This is actually fairly close to what the account did in December of 2018 (one year ago) if we account for the 2 political designs that rode a trend that no longer sell (trend over).
Merch by Amazon ALSO cut shirt royalties right after December 2018: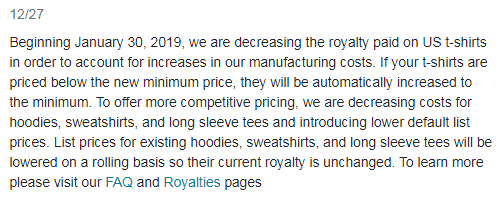 This is what the account looked like in the previous month:

Let's break these numbers down a little bit.
The best-selling shirt for December sold 151 times for $423.28 in royalties.

This represents 27% of the US royalties for the month.
The shirt is a standard t-shirt, and has over 20 reviews on it currently.
Now, it could be priced higher for sure, but the design has been knocked off 100s of times and it is STILL on top because of reviews and sales volume. This represents why being first to market and making sure your strategy is solid is a good idea. If you can be unique and move shirts, you will rarely have to worry about anyone copying you.
Standard shirts continue to make up the bread and butter of Merch. According to the data, 75% of all products sold in December were standard shirts:
Since December is a big sales month, this also helped bring down the average days until first sale:

Something else I found interesting is that 10.43% of all products uploaded to the account have been sold while 92.77% of the DESIGNS uploaded to the account have been sold.
This basically tells us that while customers may not always buy all products (10.43% of the products have sold ever), 92.77% of all the designs uploaded (no matter what product) have sold at least once. This goes to show that market fit is the most important. With over 90% of all the designs uploaded selling, the market likes what the account is putting out. This comes down to great research and understanding how to optimize your listings.
I pulled the above information from the productor extension that we reviewed on the blog earlier.
Side Note: When I was looking over the stats for this month, I noticed that a shirt that was created as a joke between friends and had been put up on Amazon has now passed over 50 sales:

This basically just goes to show you that even the most outlandish things you can think of will still sell if there is an audience for the product that finds the design interesting/funny.
Wrapping It Up
That about wraps up the month of December in a nutshell.
Now that we have the foundation completely laid and all designs uploaded to all products, we can start actually digging into the research and creating some fresh new designs for the market.
Remember, YOU are not your target audience. Therefore, when we start doing research, almost everything we will put up and create is not something that we would wear ourselves. It is what we think the market is missing and would like to buy from us.
Until next time, keep uploading!