Single Upload Interface – List Your Designs On Hundreds Of Products Across Multiple Marketplaces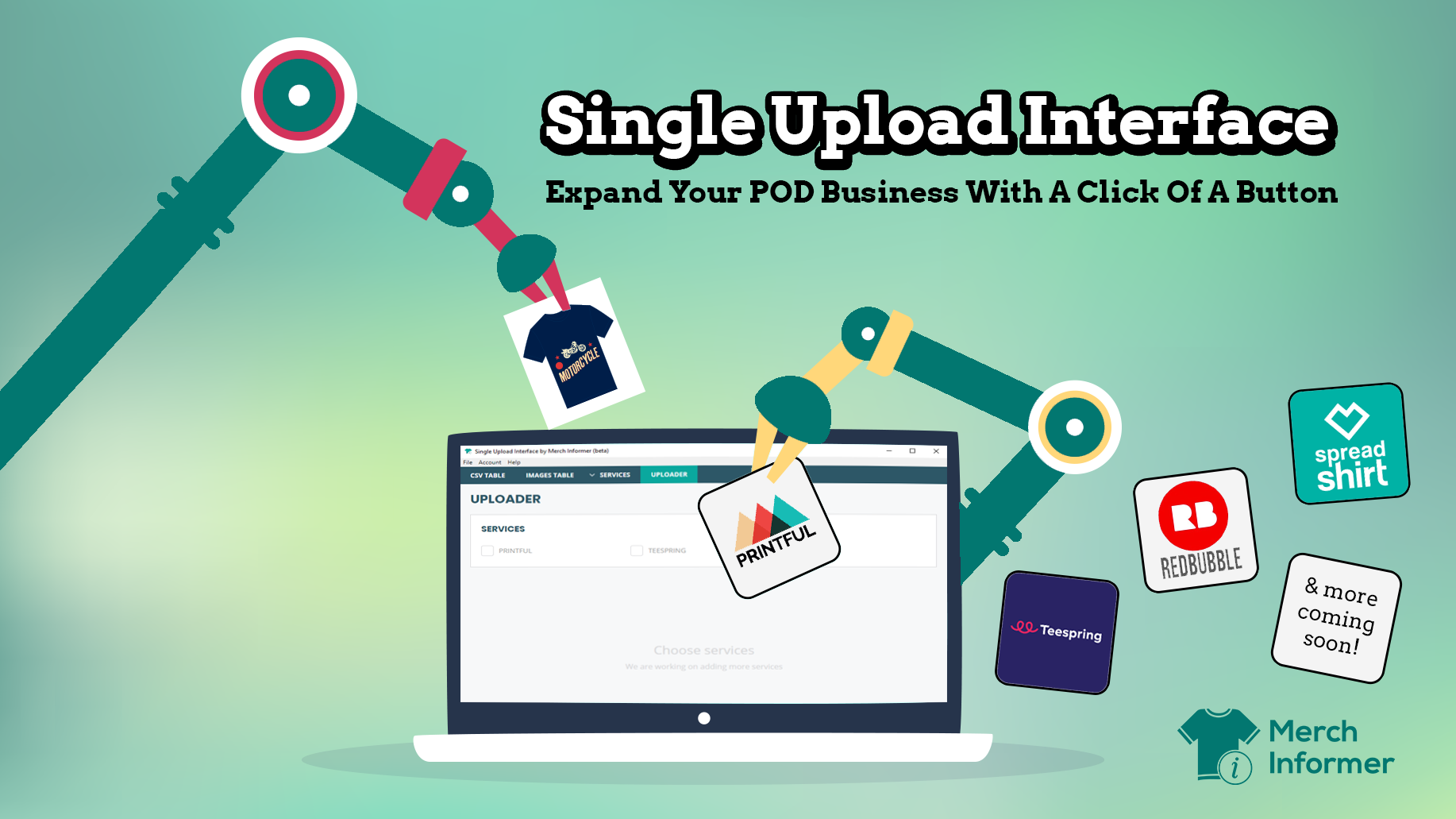 You have all heard the saying that 'time is money'. There are only 24 hours in a day, and with the amount that we sleep and take care of other needs, chances are that you only have a set amount of time to work on your business per day. Let's say maximum, you get 8 productive work hours per day and much less than that if you have a 9-5 job outside of Print on Demand.
In those 8 hours that you are focusing on your Print on Demand Merch business, you have a LOT to cram in there.
Research
Design Creation
Keywording/Optimization
Listing
Monitoring/Tweaking products
Traffic Generation
Some of these things take longer than others, notably, LISTING all of your products.
I remember the days that Merch by Amazon did not have any upload limits. I dreaded uploading so much that I would save up hundreds of designs and then list them 1 day a month to get it out of the way because I despised listing THAT much.
The only problem is that all of that time and effort is only going into a single platform: Merch by Amazon.

Don't get me wrong, Amazon is GREAT! It has the vast majority of the traffic on the internet for shoppers, offers multiple products and multiple countries that we can sell in, and has a really easy to use interface.
If you spend all your time focusing on just a single marketplace, you are leaving thousands, if not tens of thousands of dollars per year on the table. There are other people out there that shop on marketplaces that are NOT Amazon.
Since you have only so many hours per day to dedicate to your business, what activities will lead to the largest ROI for your time? Currently, it is Merch by Amazon.
…but if you could upload to all the other marketplaces where buyers are, without spending any more of your time with the SAME information you have already crafted for your Merch listings?
Then it would make sense.
We thought about it, decided to act, and made it possible with our new software: The Single Upload Interface.
This desktop software will allow you to take the same designs, same keywords and listing data, and upload them to top marketplaces around the internet so you can make sure you are not missing out on those extra sales and can add to your bottom line.
New Products – New Audience
Currently, the Single Upload Interface will allow you to take your designs, and create listings on products across platforms that get a ton of traffic. Those include:
Redbubble
Spreadshirt
Teespring
Printful (which integrates with a LOT of other platforms, including Etsy).
Let me just step through these so you can see what you are missing by not uploading to these.
Etsy
Since Printful integrates with Etsy, and I know a lot of people are pulling some massive numbers from this platform, let's go over Etsy first!
Printful currently offers 193 different products that you can place your design on, and sell on multiple integrations (one of which is Etsy). This should start to get your gears turning as you can take 1 design, and sell it on 193 different products!
What I like to do to get a good idea of how much traffic a marketplace has is run it through a website called similarweb.com. This is not going to be exact but can give us a great estimate of how much traffic is flowing through a site like Etsy.

Selling your Merch through Etsy is a great way to target new products with the designs you already have, but as you can see from the image above, selling here opens you up to over 200 MILLION new customers. These customers on Etsy are willing to pay top dollar (sometimes you can price products on Etsy for 2-3 times what you sell them for on Amazon and they will sell all day long!).
If you are used to selling a product on Amazon for 15 dollars, you could price a standard t-shirt for $30 plus shipping on Etsy and as long as your design is great it will sell. These are incredible profit margins!
If you are not set up on Etsy yet, you can read the Printful Integration Guide we put together here.
Getting your designs actually uploaded to this platform though can take a while, which is where the Single Upload Interface comes in. You can do it all in a single button click and focus on what really matters, SELLING your merch!
Redbubble
Redbubble may not be as big as Etsy is, but their target audience is LASER focused on POD. You see, on Etsy, you have sellers selling EVERYTHING that is not just a print on demand product. On Redbubble, you have just what Redbubble offers, and they do a great job at selling it.
This is a perfect fit for your designs. Redbubble currently offers 33 different products, one of them being stickers. If you are starting to notice, you can take your design catalog, and offer them on products that Merch by Amazon does NOT offer (and may never offer).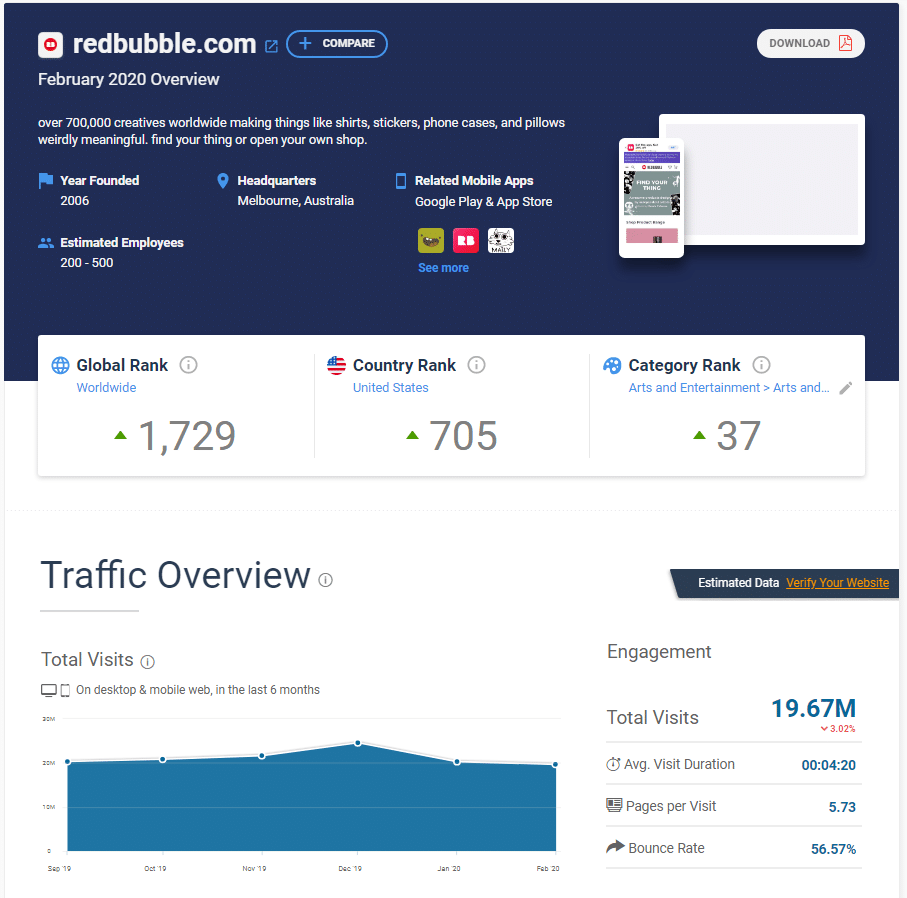 One of the things that Redbubble does differently is instead of paying you a flat royalty based on what you set the price to, they let you change your "markup percent" for products that you upload. If you upload 1 design for all 33 products, you can decide what mark-up percentages you want for each one individually. This allows you to target your pricing percentages for the products that are selling best.
Think about stickers, these are CHEAP products, but people are willing to buy them. Bump up your markup percentages for them to 200-300% and watch as the money starts flowing into your account.
Teespring
Teespring is one of the original print on demand marketplaces that I am sure a LOT of people have tried out in the past. However, it has been years and years, and their marketplace is better than ever.

Have you ever seen a YouTube video where people are advertising Merch at the bottom of the page? Yep, that is a Teespring integration and a LOT of traffic flows through their platform.
They also have something that is called a "boosted" network which will advertise your shirts for you, with Teespring's money! If you upload all your designs to all the products that Teespring has, and get into their boosted network, Teespring is going to spend their money to get more eyes on your products, which will lead to more sales.
They also offer over 30 different products that are far from just t-shirts (think leggings!).
One of the benefits you have with uploading to Teespring is a lot of the traffic on their site comes from other sellers running ads. Those visitors land on the site, find YOUR product, and the royalty hits your account.
Spreadshirt
Spreadshirt is another platform that if you are not selling on, you are missing out on a LOT of sales on different products. Spreadshirt does things a little bit differently as it splits off their platform into 3 locales: USA, EU, and DE. You will need a separate account for all 3 of these locales (which is free to sign up for).
However, uploading to all 3 different places can be a bit of a pain! In order to simply that, you can use the Single Upload Interface, which will upload all your designs to all of their products without going back and forth!
I know that they do not get as much traffic as some other marketplaces out there, but when we have talked to a few sellers who are active, they are seeing much better numbers through Spreadshirt than Redbubble. This goes to show you that they have a market where people are spending money!
While Teespring and Redbubble offer over 30 products each, Spreadshirt DESTROYS these numbers by offering over 200 different products. Think about that… creating 1 design could turn into 200 products. Imagine if you had more?
This simple thought leads us too…
Marketplace Multiplier
Let's sum up what we went over before. You have the following marketplaces and how many products each one of them currently offers:
Printful/Etsy: 193 Products
Redbubble: 33 Products
Teespring: 33 Products
Spreadshirt: 200+ Products
Let's say that you are just starting your print on demand journey and have a Merch by Amazon account. When you first get an account, you have 10 slots to fill up, so you create 10 great designs.
Then you wait for a tier up…
OR, you leverage those design assets in your business to expand your business!
Those 10 designs, uploaded to the above platforms and products (459 products across 4 platforms) would equal 4,590 products!
If you are a little more advanced and have 100 designs, that number skyrockets to 45,900 products!
People who have been doing this for a while and have 500-1000, maybe even 5-10 thousand different designs can start to see that the marketplace multiplier for these design assets you already have is MASSIVE.
Did I also mention that Printful integrates with a LOT more platforms than just Etsy? They integrate with Amazon, Shopify, even Ebay!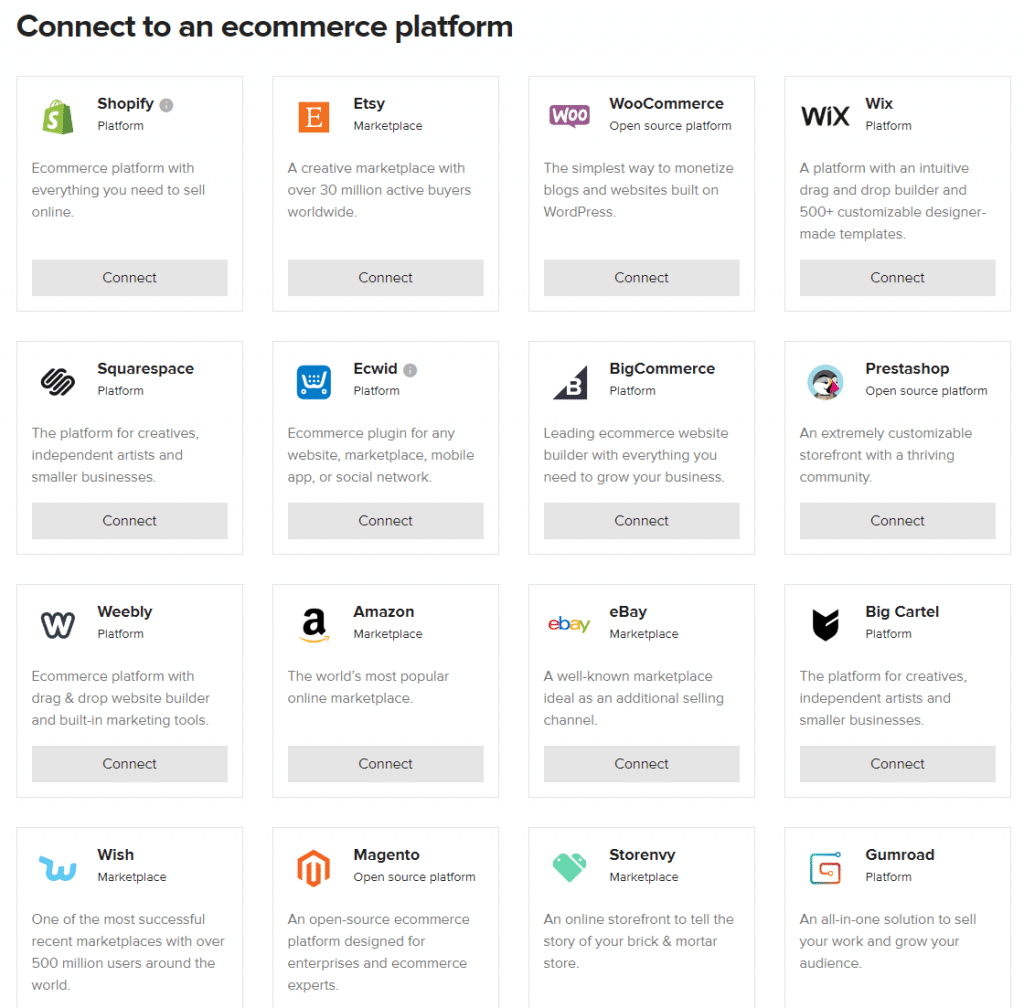 The problem lies in what we talked about at the very beginning… time is money. Uploading thousands and thousands of designs across multiple platforms would take forever, and no one actually wants to do it. Which is where the Merch Informer software comes into play!
Bottom Line
The bottom line is that if you could upload to all products, across the top marketplaces to put more money in your pocket and expand your business, would you do it?
Of course you would!
If only could you find the time to do so, it would become beneficial to your business.
This is exactly why we created this new desktop software called the Single Upload Interface. It allows you to upload to everything above without doing it manually! One click, and your business grows. It is as easy as that!
Single Upload Interface – Make More With Less Effort
Not only will uploading all your products across the platforms give you more eyeballs from different audiences on your products, but it will also allow you to be FIRST so that you are everywhere at once before any copycats take your hard work.
I was watching a movie the other day called Margin Call, and this line stood out:
There are three ways to make a living in this business: be first, be smarter, or cheat. Well, I don't cheat. And although I like to think we have some smart people here. It sure is a hell of a lot easier to just be first.
I think this could be said about the print on demand industry.
We all want to make more money in our business, and being first to get your unique designs everywhere is a great step to doing so.
So, let's go over the Single Upload Interface, how to set it up, and how to use it to save time and make more money.
If you are more of a visual learner and want to go through the entire process a lot more quickly, you can watch this video:
[embedded content]
Step 1: Get A Merch Informer Account
The Single Upload Interface is a desktop based software for both MAC and PC. In order to download and use it, you will need to have a pro level subscription to Merch Informer.
Grab the pro subscription here: https://merchinformer.com/pricing/
Once you have the account, you will see a big green button at the very top of the page. Click on this and pick your platform (MAC or PC), and download the software. Once downloaded, go ahead and open it to install it.

Once installed, log in to the software with your Merch Informer login credentials and you will be presented with the full software!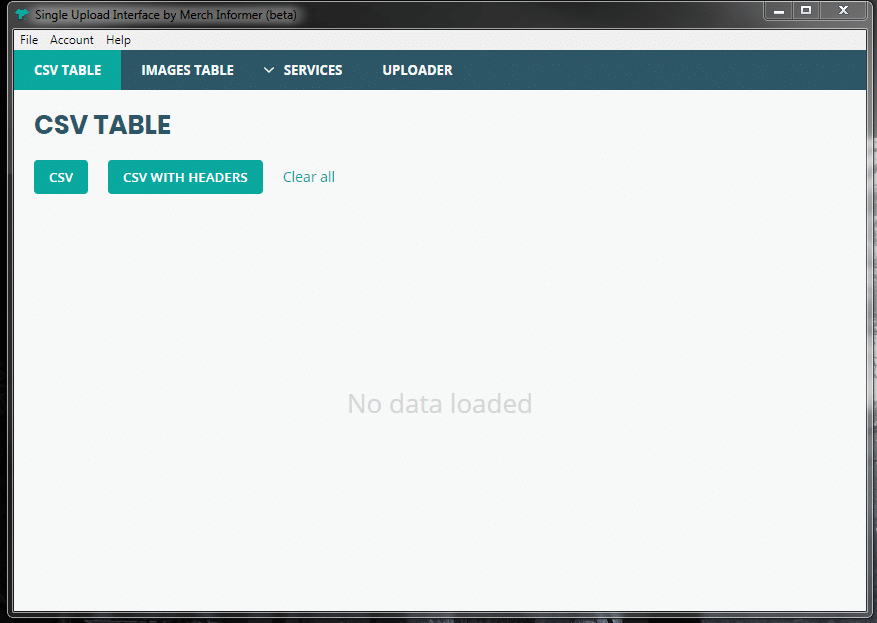 NOTE: Before you begin, click on the "help" link in the software to read the quick setup guide. This goes over how to set up each account prior to running the software so that everything runs smoothly.
Step 2: Create Your Design File
In order to upload everything to all of these platforms, the software needs to know WHAT to upload.
To do this, we are going to create a CSV file. You can do this in either Excel, OR Google Sheets (which is free).
I will be using Google Sheets for this example so that everyone can follow along.
Head over to https://docs.google.com/spreadsheets and log in. From there, open up a brand new blank document which will look just like Excel.

In order to upload your designs, you will want to fill this out with all of the information that they will need from you.
To begin with, if you already have some designs, you probably have the following:
Title
Brand
Description
Bullet Points
Price
Designs
Let's go ahead and enter those into the software. I will ALSO be adding a column for "tags" as some platforms use them (I know that Merch currently does not).

As you can see, I am adding these as headers for each column.
You can put these in ANY order as long as they are in their own columns as you will see later on.
Now that you have headers for each column, lets start filling out the information for the designs that we currently have.
The title, brand, bullet points, description and price can be pulled from your Merch by Amazon account if you have already uploaded these designs.
For the tags, come up with relevant keywords that represent your design so that customers can find them. You can pull these keywords from your title and bullet points, or you can use the Merch Informer Keyword Tool to bring back even more relevant keywords to use as your tags.

Once you are at this point, you just have to get the design path to where the file is located on your computer! This is actually very easy. If you are on a PC, do the following.
Open up the folder that you want to copy the image paths for.
Highlight the images that you want to get the path for.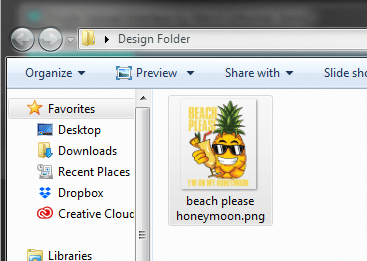 Now, hold down SHIFT on your keyboard. At the same time, RIGHT click the image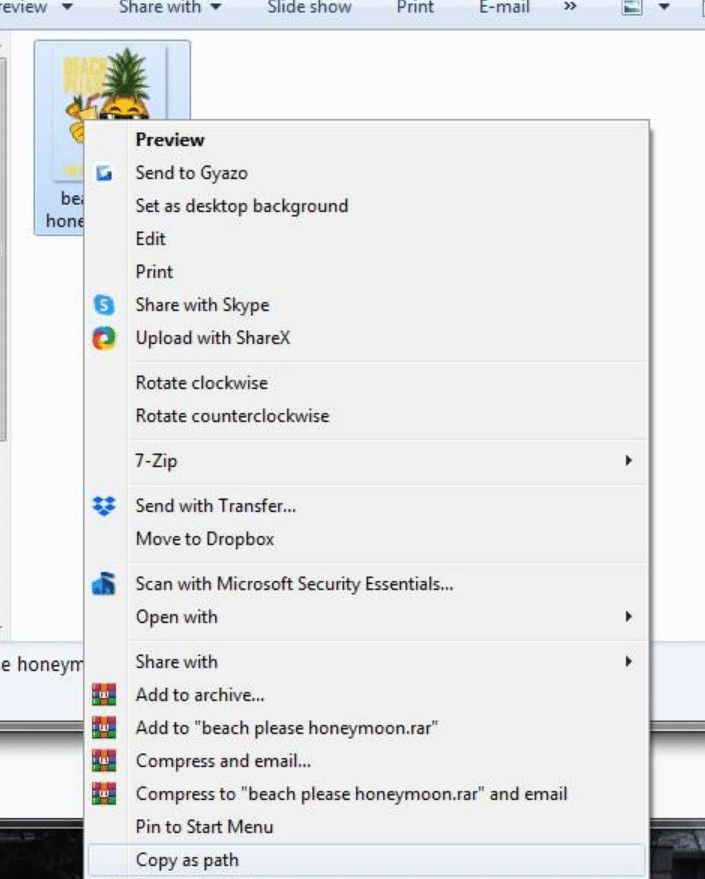 Click on the copy as path option. The paths have now been copied and can be put into your CSV file.
NOTE: You will need to remove the quotations around the path once you put them into your CSV file.
After following all of these steps, you should have a completely filled out CSV:

Each line in your CSV will be a new design with new information. For this example, I am using only a single design so that it is readable, but if you have 100 designs, you would have 100 lines all filled out.
So, now that we have it all filled out, we need to download the file from Google Sheets.
Click on File -> Download -> Comma-separated values (.csv)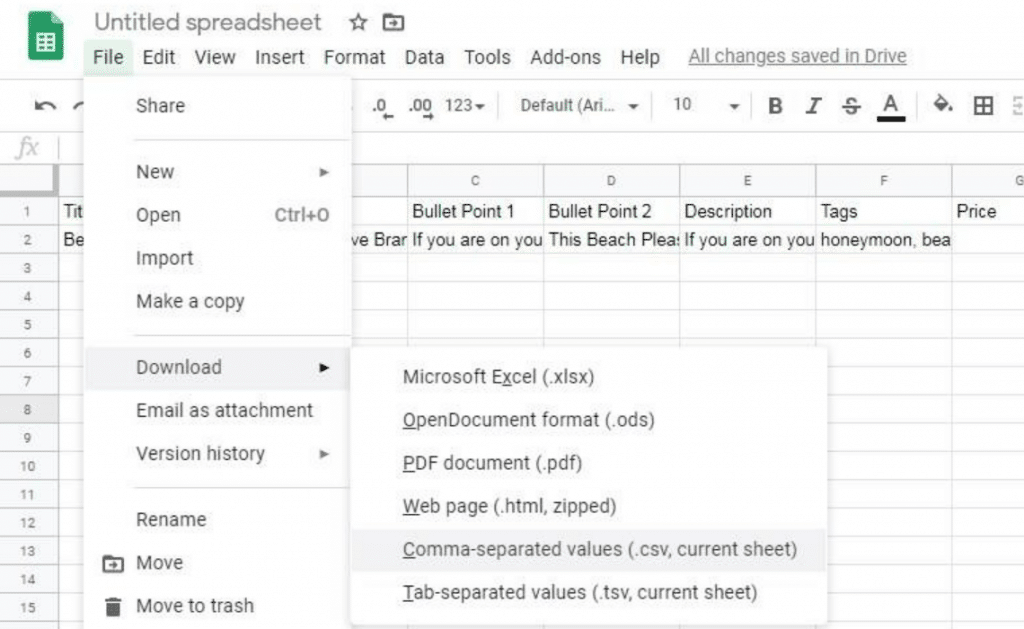 Now you have a CSV file downloaded to your computer and that's it! You have done all of the hard work and are ready to import it into the software and start uploading.
Since you followed along with this tutorial and put headers in your CSV file, click on the CSV with headers button, and upload your file: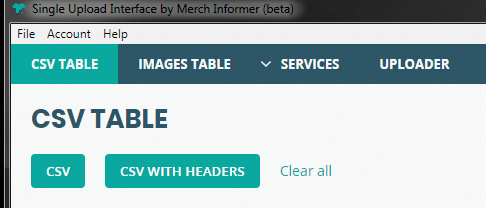 This page will now show you exactly what information that you have in your file so that we can move on to the fun part, picking products and marketplaces!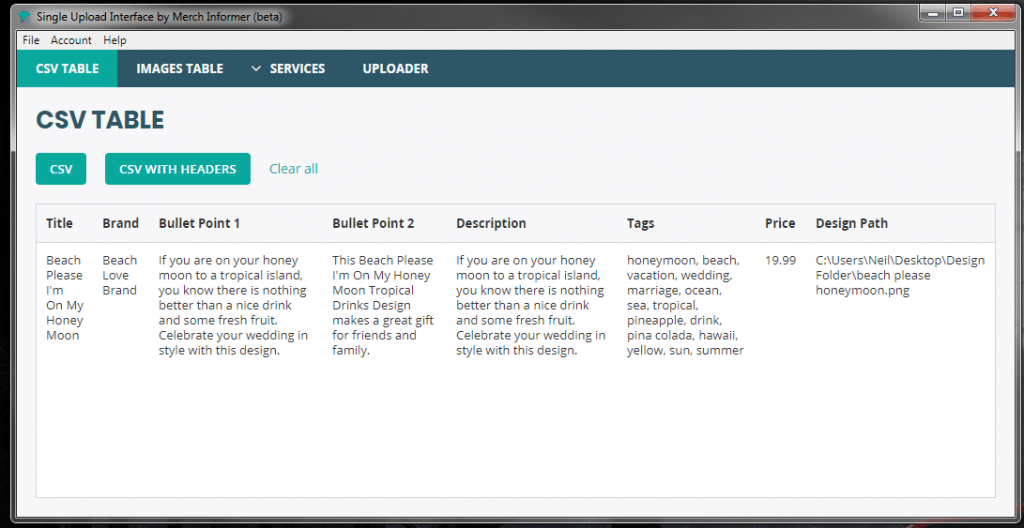 Note: If you are having trouble getting your design path into your CSV, you can always upload them to the image table tab at the top of the software. Since we put the image path into the CSV file, you can completely skip the images table tab.
Step 4: Setup Marketplaces To Upload Products
Head on over to the services tab at the top of the software. This is where we are going to set up each individual marketplace and what products, sizes, and colors we want to upload!
Let's start with Redbubble!
Redbubble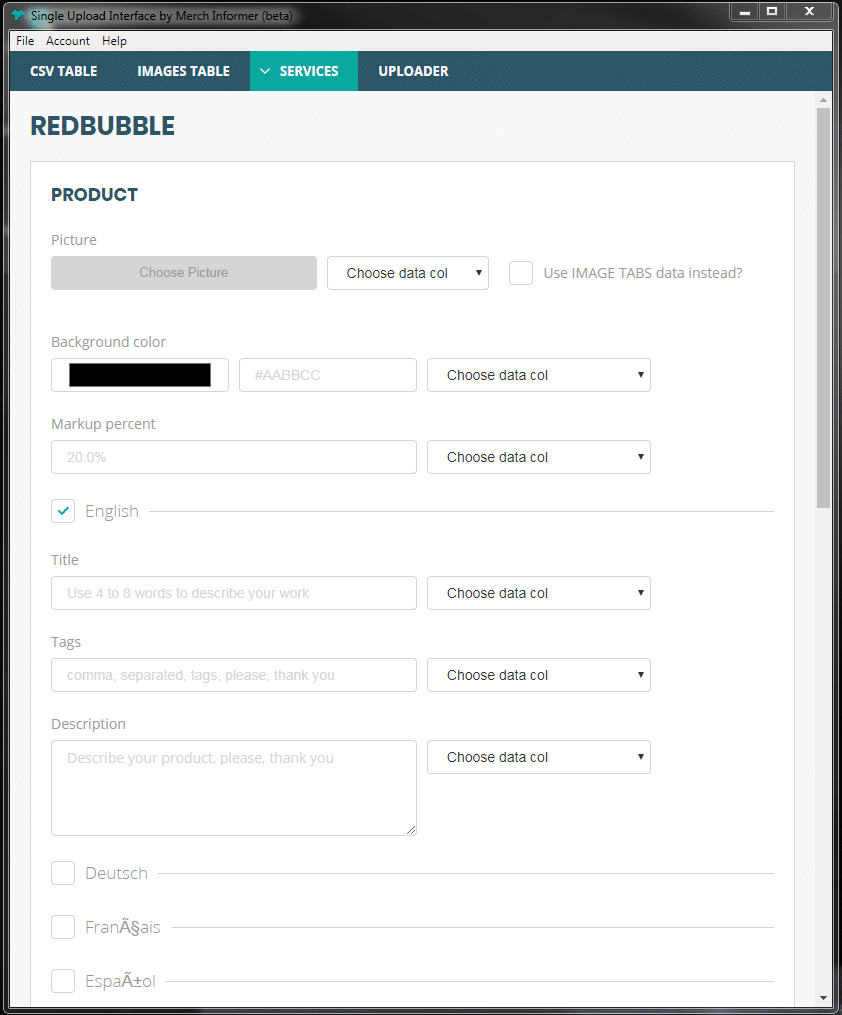 For each page and service, all you are going to do is use the drop down menus next to each option, and map them to the column in your CSV File.
As you can see, the first thing we have to select for Redbubble is the picture. Use the dropdown menu, and select the column in your CSV file that you put the image path: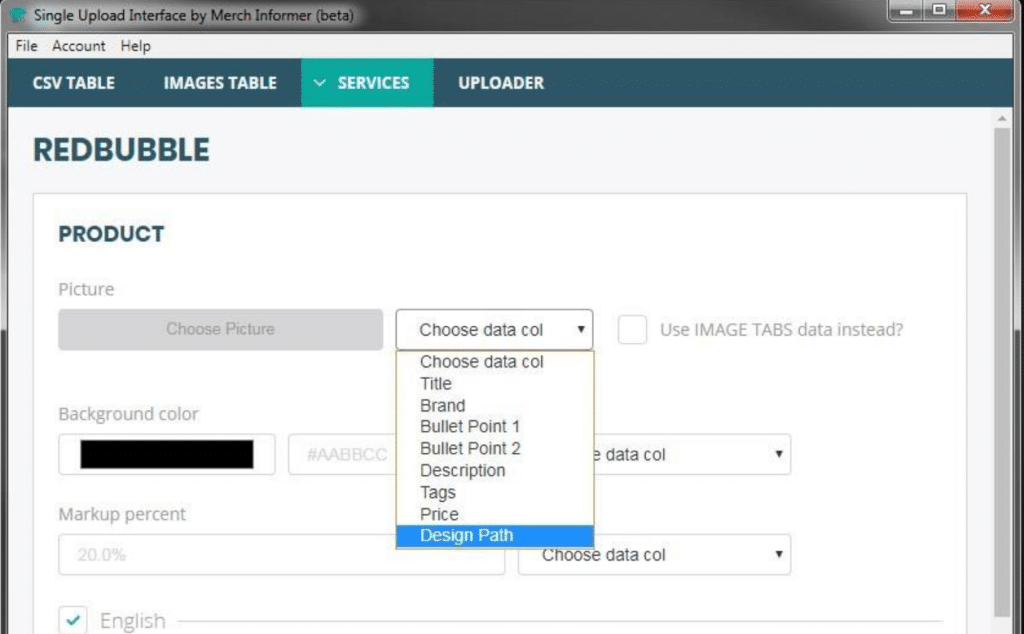 Next, you will see the background color for the products. You can select a color you want OR if you know the color you want, you could have actually added this to your CSV file.
The same goes for markup percent. You can select what you want your markup to be, but alternatively, you could put this in your CSV file as well!
Simply enter the options, or map them out!

As you can see, I am using the drop down menus on the right, to match the columns up to the boxes on the left.
If you have uploaded to Redbubble before, and have all your custom sizes figured out, positioning changed, and everything just as you like it, we have the option for you to actually copy the settings from one of your old designs. This is great to make sure all your selections are going to look good on each of the products:

After you have everything else filled out, it is time to pick what you actually want to upload from the product selection!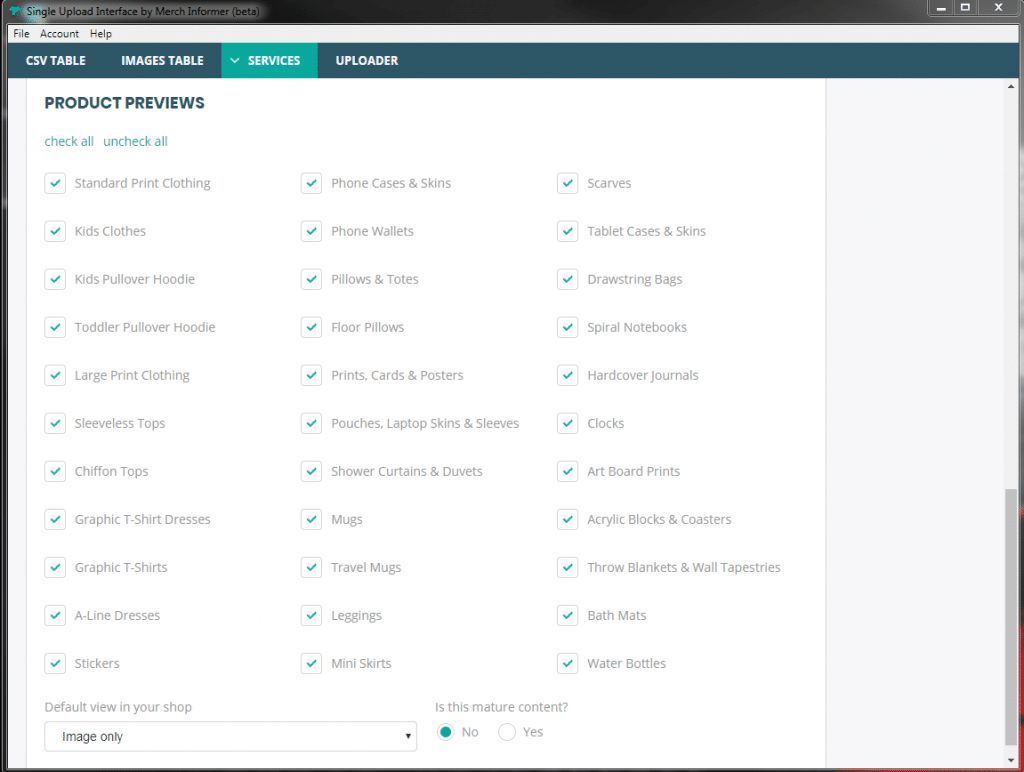 If you are going to select all the products, I would highly recommend filling out the copy settings option above, so that everything has been re positioned on the products and all of them will look great!
Finally, select a default view for in your shop and if the content is mature or not.
That's it! Redbubble is completely ready to upload!
Teespring
Moving on to Teespring, follow the EXACT same thing as above. Go through the options and use the drop down menus on the right to match the columns up with your CSV file.
The products on Teespring may look a little bit different (because there are different products).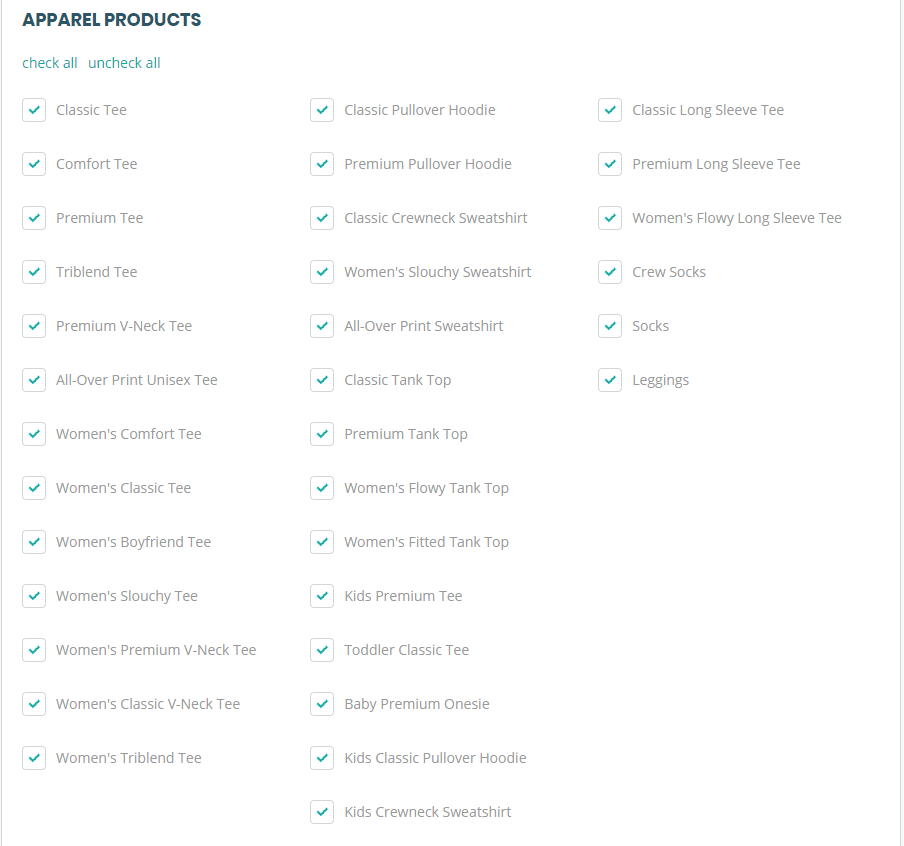 You will also have a MASSIVE color selection below these options. Once you have those selected, simply scroll down, select the default colors for each of the products and the price you want to offer them with. You can use the prices that you put in your CSV file, or you can enter them manually: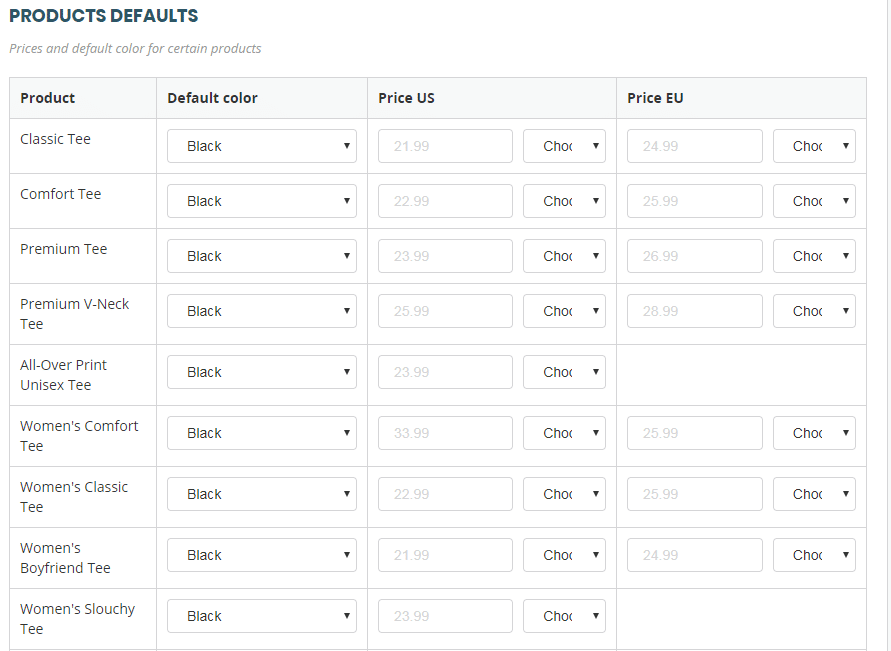 That is all there is too it for Teespring, you are now ready to upload your designs to all of these products!
Spreadshirt
For Spreadshirt, make sure you are reading the quick start guide under the help menu. To set this one up, select Spreadshirt under the services tab, and do the exact same steps as above.
The only difference is that you are going to want to use a template.
The template can be set up by logging in to Spreadshirt, uploading a design, selecting the products you want under that template, and then saving it. You will give it a name.
In this example, I gave it a name of "shirt example".
You can then put this template into the Single Upload Interface which will then use all of the products and options that you selected when creating the template.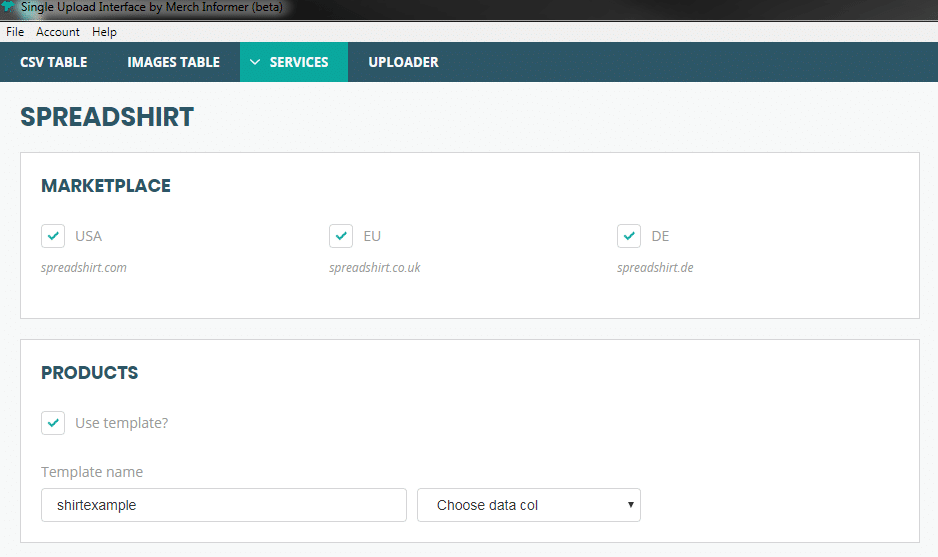 Note: Spreadshirt went to a base pricing so you will be paid a set royalty per product sold.
That's it! Spreadshirt products are now ready to upload!
Printful
Using Printful to upload to multiple places is a little bit different than the steps above, so let's go over how to do it!
The first thing you want to do is select Printful from the services menu in the Single Upload Interface.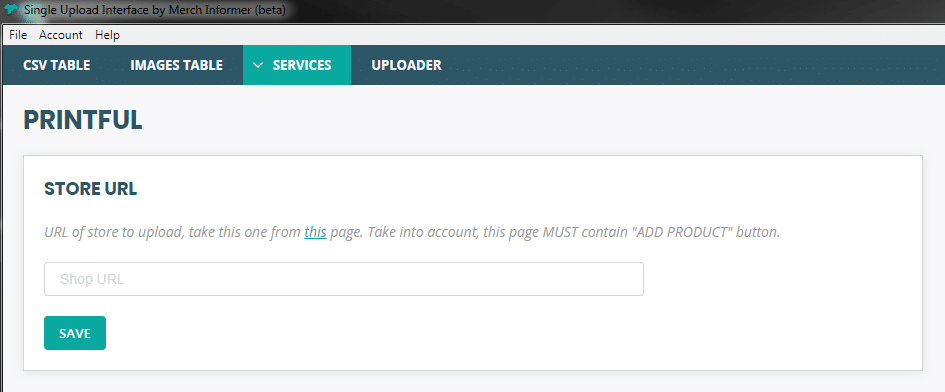 To get your shop URL, go into Printful, go to the stores link on the left hand page, and select the store that you want to push products to:

Once you click on the store, go up to the URL box in your browser, and copy everything to the very end of the NUMBERS and nothing after it.
The URL on your store will be different from mine, but I have highlighted what you will want to copy:

Copy that URL and paste it into the Single Upload Interface and click on save:

You now have access to all of the products that Printful offers which will be pushed to the store that you have your integration set up for!
Simply go through the list, pick a product, and follow the same instructions above for mapping out the different options: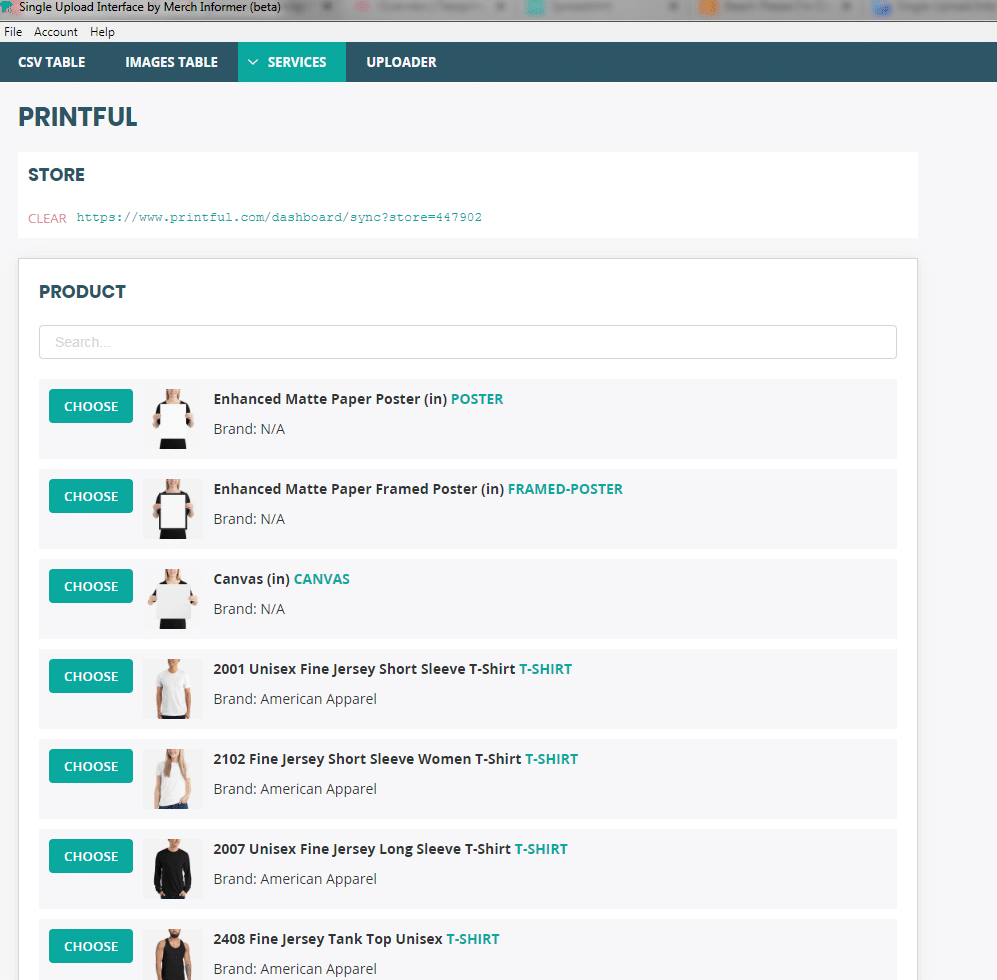 Step 5: Uploading Your Products With One Click
We have accomplished a lot up through this point. We created a CSV with all of our design information, we set up each account with the products that we want to upload, and now it is time to put it all together and upload some products!
Head over to the uploader tab in the Single Upload Interface.
From here, select the marketplaces that you want to upload to. Since we filled them all out, you can simply check each box.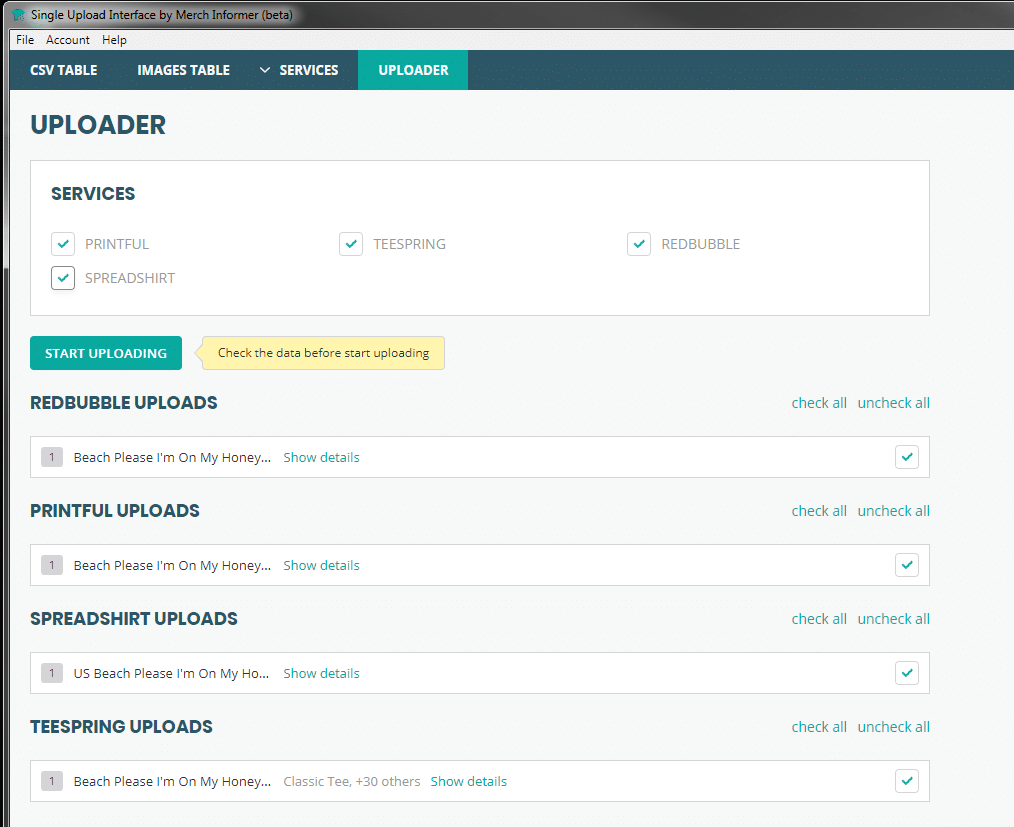 To make sure that you have set up everything correctly, do a quick double check by clicking on the "show details" link next to each product. This will show you exactly what you have mapped out in the previous steps.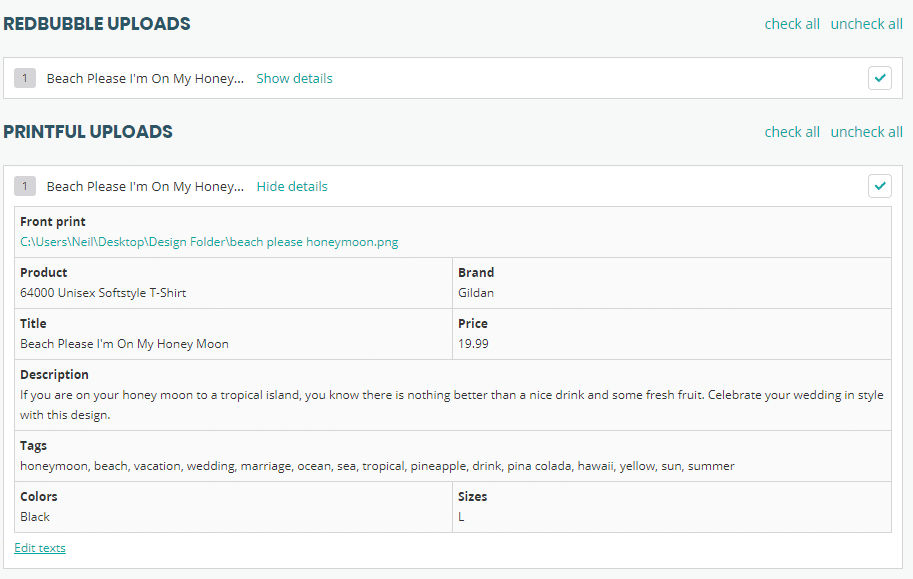 Once everything looks good, simply click on the "Start Uploading" button.
The Single Upload Interface does not save any of your login information on any server. Instead, when you click the start uploading button, a Chromium window will pop up for each platform that you have selected. Simply enter in your login information into that page. It will then close the window, and start the upload process.
It will then go through each product one by one and upload them for you, without having to have any input at all past logging in.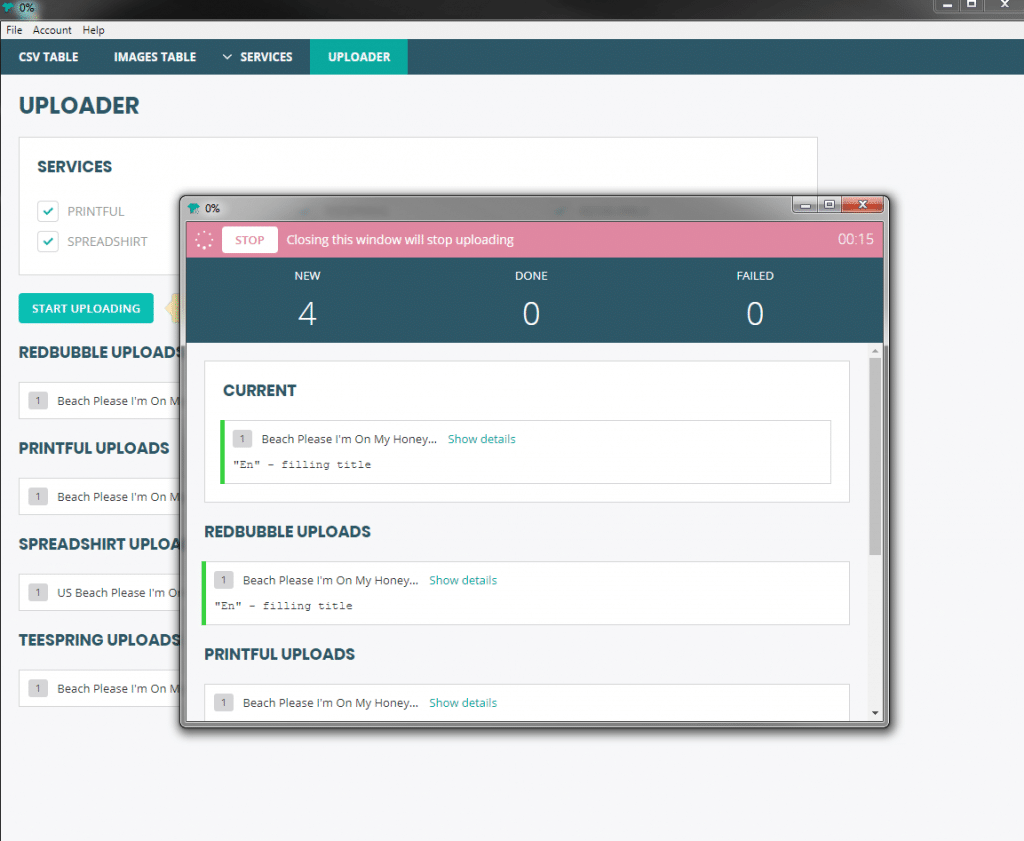 And just like that, a few seconds later, our first product is uploaded!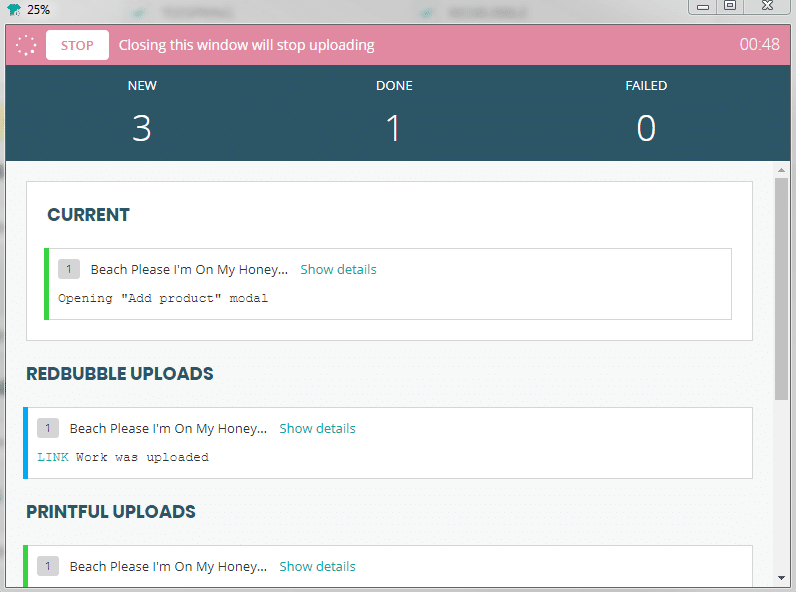 If we wait just a little bit longer looking at the computer, they all finish up and we now have our design uploaded to a ton of brand new products that were not available to us on Merch by Amazon!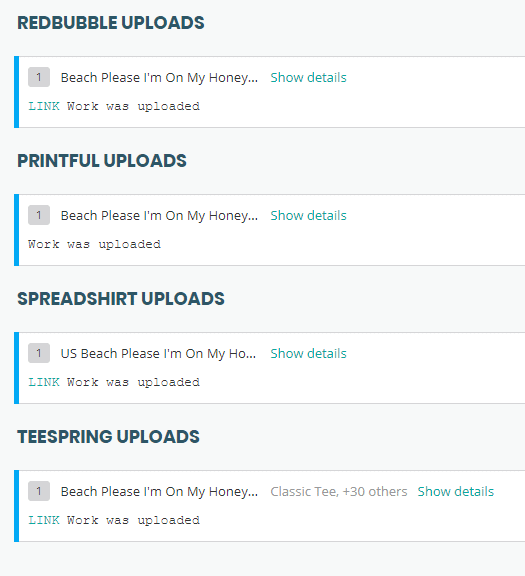 This was just a single shirt, uploaded to LOTS of different products in the span of a few minutes without having to upload them manually yourself. As you can see, setting up your CSV and mapping the options will help you expand your business without putting forth 100X more effort with the SAME design assets that you are already building in your business.
Wrapping It Up
Growing a POD business is going to take two things: time and effort.
If you think about the effort you spend creating these unique designs in niches that customers will buy in, it really only comes down to how much time you have in the day.
Taking your design catalog and getting it in front of every possible buyer you can across multiple marketplaces is going to be what sets you apart from everyone else who is just focusing on a single platform.
Stop doing everything manually and start leveraging your time with the Single Upload Interface. This could add a very nice level of income to your business by doing what you do best, focusing on the designs, and letting the market handle the rest!
To your success!